My father's name was Forrest. Everyone called him Sonny gun as he was a gun fanatic. He taught me gun safety, shooting and reloading at a young age. We spent many hours over the years in his gun room talking about rifles and loads.
Let's fast forward many years later having moved 2 and half hours away for work. Now in this area I start seeing groundhogs.. lots of um. So I decided I needed a groundhog rifle. I go to the local gun shop and spy a row of Savage model 40 .22 hornets . Bought one. And my groundhog murdering career began. Visiting home I showed the rifle to my Dad. He fell in love. Back to the gun shop and got him one.
Now hade never seen a groundhog growing up by his house. But We took the rifles to South Dakota on 2 trips and shot a pile of prairie dogs with them. One day he called me to tell me that much to his surprise he seen a groundhog in the back yard. Grabbed his Hornet and missed him. He had never killed a groundhog so he bummed out. I told him not to worry I'd bring him to down to my place and get him one. but he pasted away before we could make that happen.
The following spring my mother called and said there was a groundhog living under the shed.the only rifle we didn't sell out of his collection was the Hornet. it sits next to mine in my safe. 2 and half hours later I was sitting in the yard were my dad and I used to sit, drink a beer and talk rifles. and here is my Dad's Hornet and I'd like to think the groundhog that he missed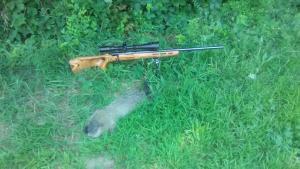 Glen, ArkyKen, DittoHead and 5 others like this